MUST READ--Registration Information and Instructions.
Venue
Our workshop will be at Ross Point Camp and Conference Center, 820 S. Ross Point Rd. Post Falls, ID 83854. Ross Point is located 1 mile south of I-90 at Exit 7, along the Spokane River and only 34 miles from the Spokane International Airport. The facilities are beautiful and restful with large gathering rooms for vending and non-class time and also provide plenty of recreational activity for our non-tatting guests.
Dates
Our dates are May 3-6, 2018 (Thursday evening through Sunday breakfast), depending on the registration option you choose. The workshop classes will remain on Friday and Saturday. Please note: This is Bloomsday weekend.
Lodging Information:
Ross Point has lodging on site in motel style rooms (bedding, pillows and towels provided) that can accommodate up to 82 overnight guests. Each room has 2 or 3 twin beds. Cabins are also available for those that would like to share a space with 6-8 others and don't mind walking a greater distance. You must provide your own bedding, pillows and towels for the cabins. There are also 6-7 RV sites available with water and electricity but no sewer hookups.
Please note: This is Bloomsday weekend and hotel/motel rooms will be scarce from Spokane WA to Coeur d'Alene ID. If you choose offsite lodging, it is recommended that you make your reservations as early in January as possible. We are unable to provide a list of recommended accommodations offsite.
Schedule:
The fun begins on Thursday afternoon at 4:00 pm with dinner at 5:30 pm.
Classes are still on Friday and Saturday, with 3 classes each day. The morning class is 2 hours and the afternoon classes are 90 minutes each.
The vending room is open thursday, Friday and Saturday except during meal times. It will close for the weekend at 5:15 pm on Saturday.
Evening Activities:
Friday
-- 6:30 - 8:30 Tat Your Own Adventure Poker Run with Natalie Rogers. Draw your cards after each meal, beginning on Thursday.
-- 7:00 - 8:00 The History of Tatting Shuttles and What to Look For with Heidi Nakayama. A one hour power point presentation with a question and answer period.
Saturday
-- 6:30 - 8:00 Trellis Vine Follow-up with Karen Miner. This is for students who took her Trellis Vine class at the 2017 workshop and would like help completing the project.
For planning purposes, you will need to indicate your interest in any of these evening activities on the registration form.

T-Shirts and Tote Bags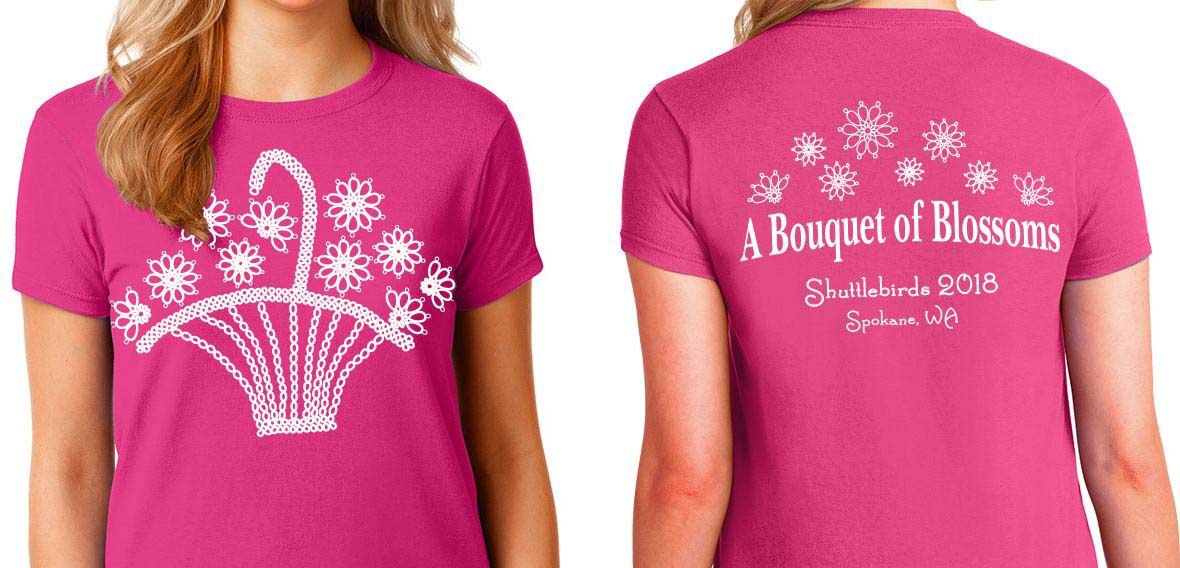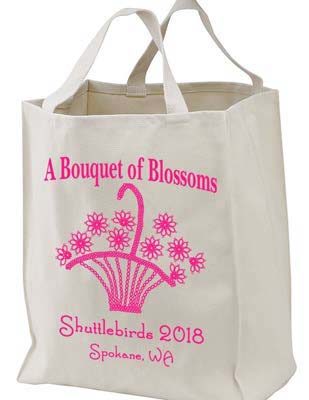 T-shirts and Tote Bags supplied by Ron at http://custom.crazedlemming.com
The shirts this year are heliconia (bright pink) with a white basket of daisies on the front. They are 100% pre-shrunk cotton and available in two styles - unisex and ladies cut - and sizes small to 5XL. Prices are the same as last year, ranging from $18 to $22 depending on cut and size.
The tote bag is made from 10-ounce, 100% cotton twill with cotton web handles. It measures a generous 15.5"h x 13"w x 7"d and is $15.00. The color is natural with the same basket of daisies design.
Raffle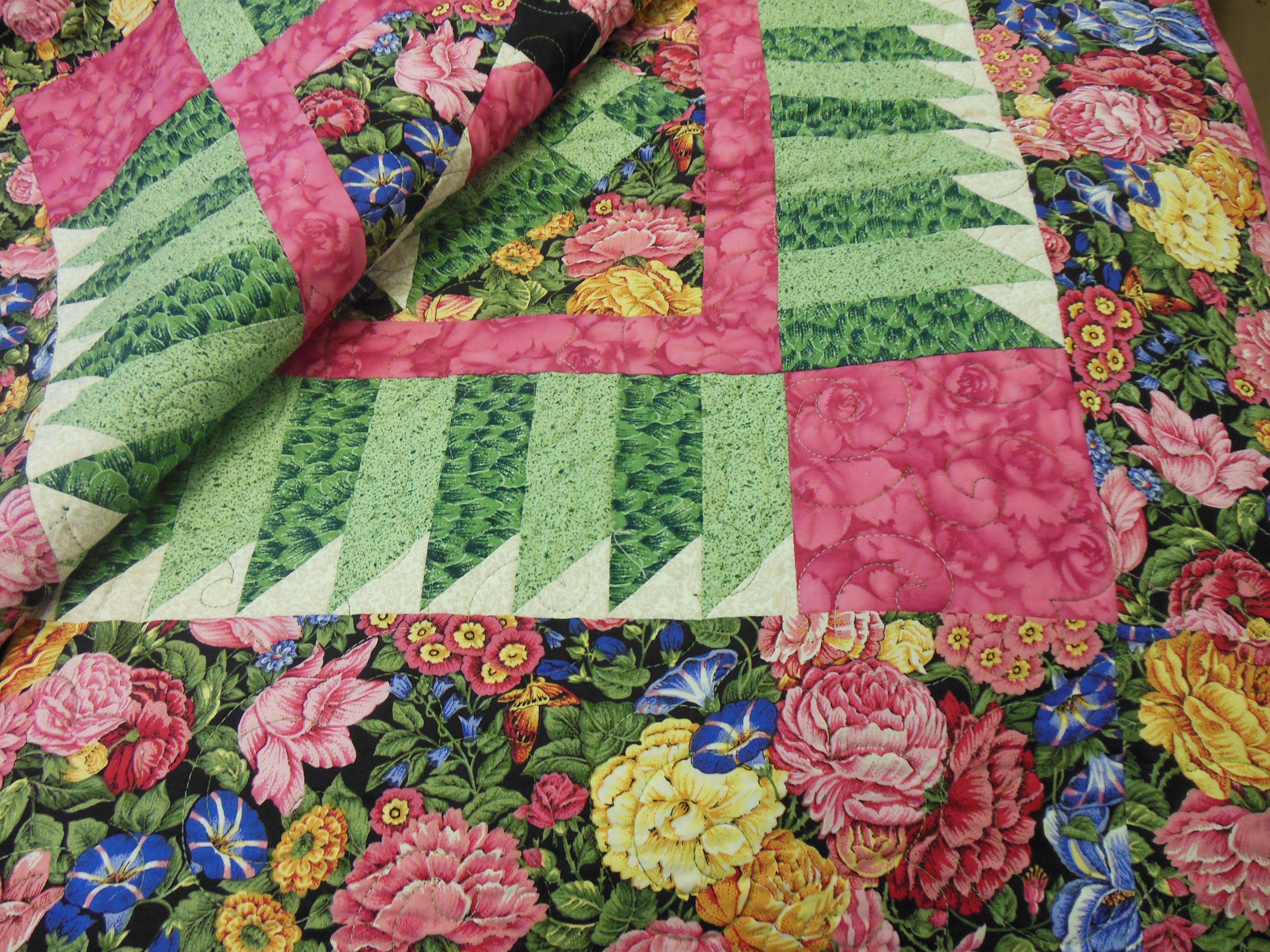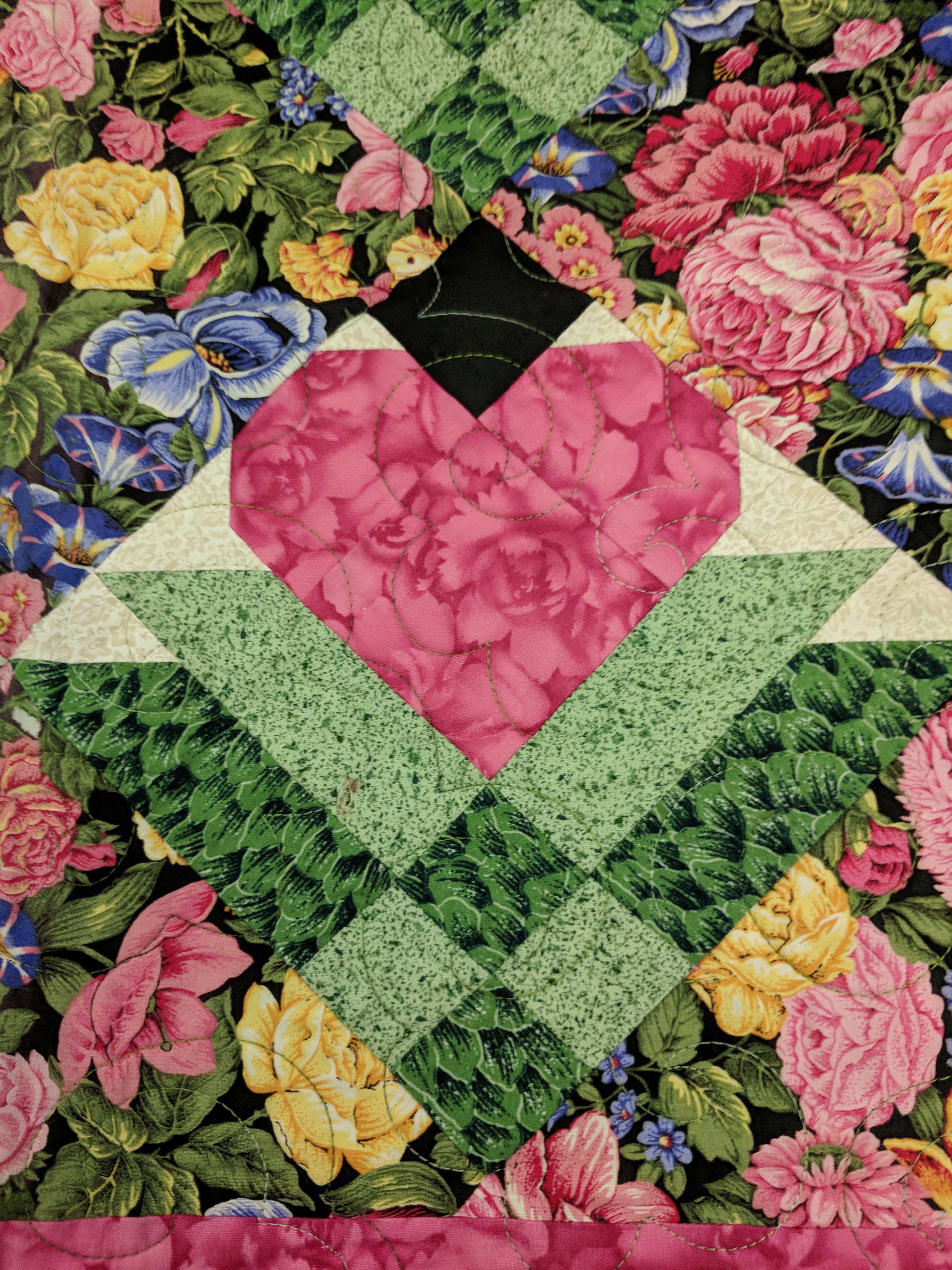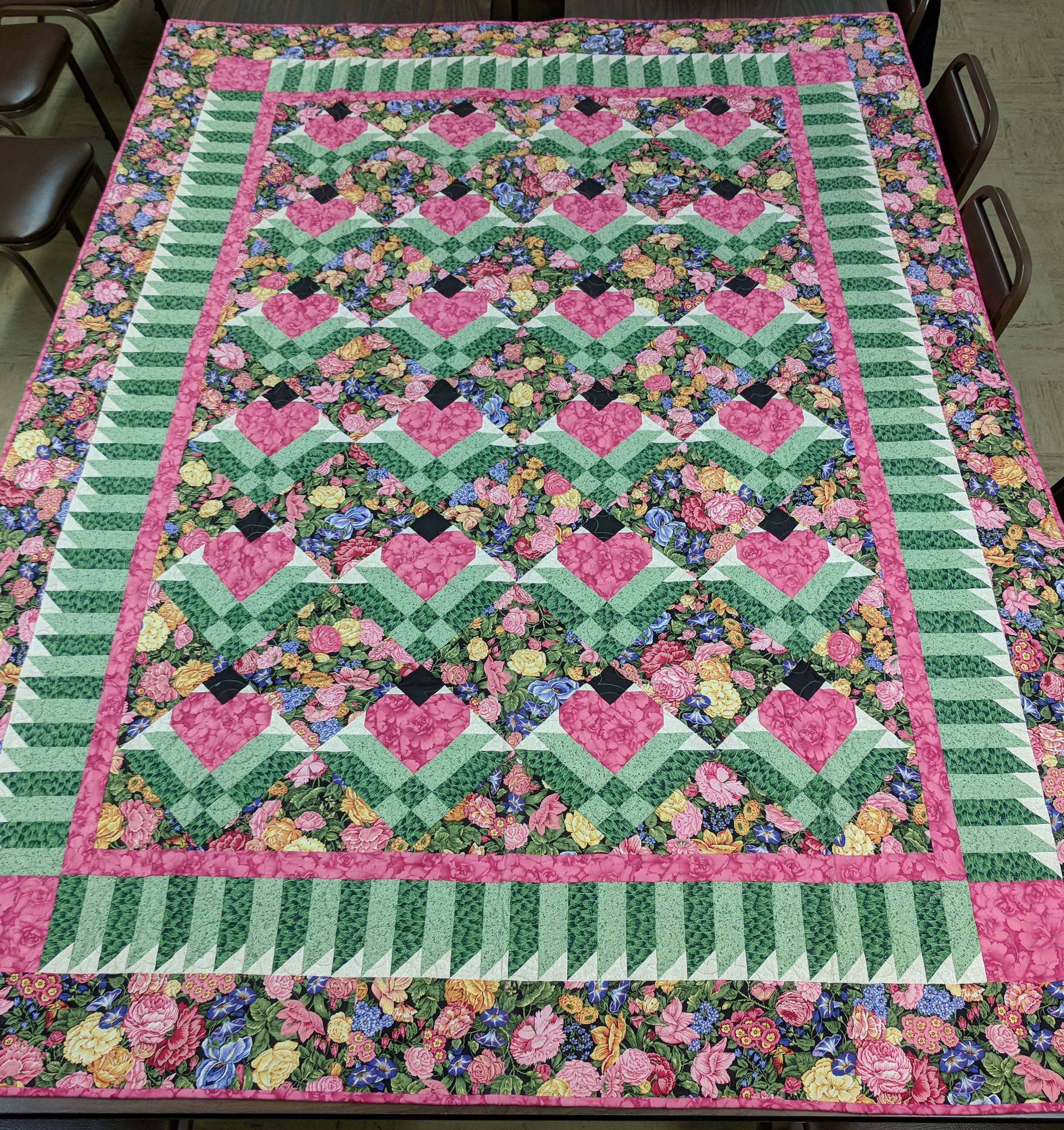 We have a beautiful 67"x92" quilt, made by and donated by member Roberta Waines, to raffle off in support of our scholarship fund. Tickets are $5.00 each and may be purchased at guild meetings or at the workshop. Attendance at the workshop is not required to win.